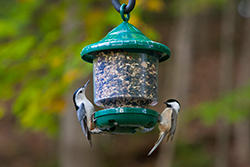 A Feeder for the Smaller Eater
Here's to looking out for the little guys in the backyard. The Clinger's Only™ allows chickadees, titmice, nuthatches and other small songbirds to cling and feed while preventing larger birds such as grackles, starlings, and pigeons from feasting. It has a locking lid that makes filling and cleaning simple. For such a small-size feeder, the Clinger's Only holds a lot of seed and packs a mighty punch.
Dimensions: 7" x 7" x 9"
Capacity: ¾ qt.